Common Issues and Signs of Foundation Settlement in Atlanta, Georgia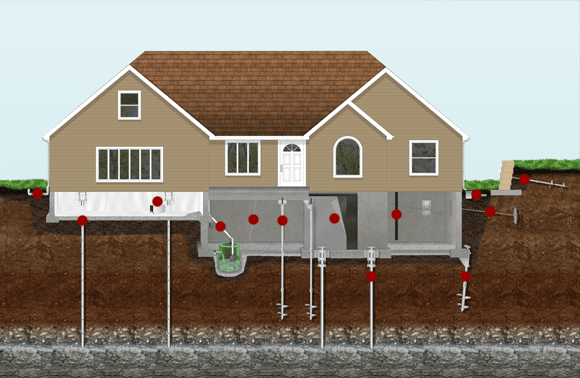 At Atlas Piers of Atlanta, we take your most valuable assets seriously – that's why we specialize in foundation repair using both helical and resistance piers.
We provide foundation repair in the Atlanta, Georgia area.
We operate our business as educators and consultants – trying to help you solve your problem and treating you the way we want someone to treat us – with respect, integrity and honesty.
Foundation Repair in Atlanta, GA
If you have experienced foundation settlement around your home including:
Back corners of your home
Failing retaining walls
Don't be fooled by thinking all foundation repair companies are the same, or that all helical piers and resistance piers are the same. Atlas Piers of Atlanta exclusively repairs foundations – some of our competitors perform foundation repair to supplement their main business of waterproofing. Our professionals are fully trained and licensed to repair foundations, and have installed thousands of piers. Atlas Piers of Atlanta will send one of our experts whose only job is to lift and stabilize your foundation.
Our products are manufactured by the largest and strongest piering manufactures in the world so you don't have to worry about the quality of what you are buying (many of the local companies make their own piers or buy from the cheapest supplier). The products we use are made by Earth Contact Products (ECP), the leading manufacturer of foundation repair products in the industry. Our system representatives are not on commission and will give you a straight answer as to what your foundation repair needs are. If you don't need repairs, we'll let you know. We can give you the knowledge as to what to look for in the future regarding foundation failure.
With your most valuable asset, you need a repair that will last a lifetime and company that will be around to back their warranty.
Check out our section on Frequently Asked Questions. Come to us for your foundation repair in Atlanta.
Indicators of Settlement
Here is a glance at some of the most common foundation problems we fix.
Click on the images below for a larger view.
Life of the structure warranty.