Commercial Foundation Repair in Florence Alabama
Florence is a beautiful city found right on the river, and Atlas is proud to offer foundation repair services in the Florence area. Florence is a part of the humid subtropical climate zone because it experiences a change in seasons throughout the year. Summer highs average in the nineties, while winter lows drop into the thirties. The city receives 54 inches of rain every year. When compared to the national average of only 36.5, you understand just how much rain Florence really does experience. These weather patterns can actually cause some issues for the buildings of Florence. That's why Atlas Piers is here to help. We are your commercial foundation repair Florence Alabama service provider.
Commercial Foundation Repair in Florence AL
When temperatures vary, soils expand and compact. Over time, this process can make soils lose their original strength. A building is built relying on the ground beneath it for support. When that ground weakens, it may begin to sink or settle. The structure above it may do just the same.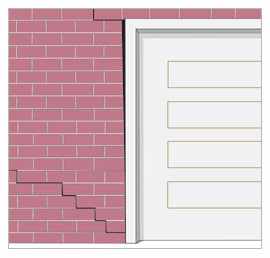 This is called foundation settlement. You'll notice some key signs happening in your business. You doors and windows will become misaligned and be difficult to open. Your floors and walls may begin to crack. If you have a chimney, you may find it leaning. If these are true of your business, give us a call right away! The sooner we can help you with your settling foundation, the better!
Rain can cause problems, too. When a good amount of rain falls in a short amount of time, the ground around your business may become overly saturated. This places what is called hydrostatic pressure on your foundation. If this load surpasses that of which your foundation was built to withstand, it may begin to crack. Water can seep in through these cracks, along with insects and critters. If you think this could be happening in your business, contact us to help find a solution to the problem.
Crawlspace Encapsulation and Repair in Florence, Alabama
The premiere wall encapsulation services from Atlas Piers will help keep your crawlspace dry and safe. Wall encapsulation is a waterproofing method in which a vapor barrier is installed all along the interior surface of the crawlspace to stop water from seeping through the concrete or leaking through cracks in the crawlspace walls. This can prevent serious problems, such as mold growth, wood rot, metal rust, wet insulation, and high humidity. If there are structural issues in your crawlspace, we offer crawlspace underpinning to keep your crawlspace structurally sound. Because the crawlspace supports the weight of the entire home, it is important to keep it stable. Underpinning methods from Atlas Piers will stabilize a sinking or shifting crawlspace to strengthen your home's foundation. We provide the best solutions for all of your crawlspace issues.
No matter what your commercial foundation repair needs are, we are your go to company. We are here to help with your foundation repair Florence Alabama projects, needs, and problems.

View Larger Map