Foundation Repair in Hilton Head Island South Carolina
Atlas Piers of Atlanta serves Hilton Head Island, South Carolina, providing foundation repair and crawlspace encapsulation services. Hilton Head is a part of the humid subtropical climate zone. It experiences mild winters and hot, humid summers. Summer highs average in the upper eighties, while winter lows average in the thirties. Though temperatures may change between seasons, rain falls year round. The town receives about 52 inches of rain every year. When compared to the national average of only 36.5 inches, you realize just how much rain that is. Though the towns weather is generally enjoyed by those who live there and who are visiting, it can sometimes cause some problems for the businesses in the area. That's where we come in. Atlas Piers is your premier provider of commercial foundation repair in Hilton Head Island South Carolina. We're here to help with all of you foundation issues.
Commercial Foundation Repair Hilton Head Island SC
When temperatures vary, the ground expands and compacts. This process can weaken the soils. When a building is built, it is constructed on top of this ground as support. When these soils lose their original strength, they begin to sink or settle. The structure built on this ground may begin to do the same.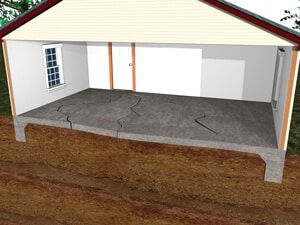 This process is called foundation settlement, and there are some key signs that it is happening to your business. Your doors and windows will become misaligned, and your floors and walls will crack. Rain can cause similar issues. As the ground around your business becomes saturated, it places hydrostatic pressure on your business' foundation. When your area receives a lot of rain, a lot of pressure is put on your foundation. If this load surpasses the amount your foundation is able to withstand, it may begin to crack. If you notice any of these problems happening in your business, give us a call!
Possible foundation repair solutions for Hilton Head Island include:
pressure grouting. High concentration cement is injected into holes in your concrete and fills voids that may be causing cracks and sinking. 
helical tieback installation. Helical tiebacks support leaning and bowing walls and help lift hem back to a safe, stable position.
underpinning. Helical and resistance piers can be installed to lift your home's foundation and stabilize it, preventing loose soil from sinking and further damaging your home.
carbon fiber repairs. Carbon fiber strips are an eco-friendly alternative to underpinning. They are applied to your walls to correct cracks and strengthen bowing or leaning walls. These strips can be easily painted over for low visibility.
When it comes to foundation repair, we are your best bet! If you believe your home is in need of foundation repair in Hilton Head Island South Carolina, contact us today for more information.