Commercial Foundation Repair in Asheville North Carolina
Asheville, North Carolina is a part of the humid subtropical climate zone. The city receives about 38 inches of rain every year, relatively consistent with the national average of 36.5 inches. Temperatures range with the seasons. Winters bring temperatures in the twenties. Summer highs average in the mid-eighties. While the different seasons provide a nice change in Asheville, they can actually cause some potential foundation issues. Atlas Piers of Atlanta is here to help with those issues. We are your commercial foundation repair Asheville North Carolina service provider.
Commercial Foundation Repair Solutions in Asheville, North Carolina
The soils your business is built on are extremely important. When a business is constructed, the soil must be properly prepared because a business' foundation relies on it for support. As seasons and temperatures change, soils expand and compact. If this happens frequently or very quickly, the ground can weaken. Because your business relies on the ground, if it loses its original strength, foundation settlement can occur. There are many signs that this is happening to your business. Windows and doors may become misaligned. They will stick and be difficult to open and close. Floors and walls will crack. Floors can slope, and walls can lean. If any of these are happening in your business, call us right away. We can help give your business the support it needs using piers. We can even lift it back to its original height. The sooner you contact us, the better. The longer you wait, the more dangerous the foundation problems will become, and the more expensive it will be to fix.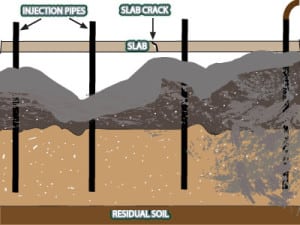 We can provide you with quality foundation repair solutions for every situation. If your foundation is sinking or settling, you may need to invest in some underpinning services. Our reliable underpinning products come from Earth Contact Products (ECP), a leading supplier of foundation repair products. The various types of piering devices that we use (helical piers, steel push piers, micropiles, slab piers, and new construction piers) allow us to serve your every foundation repair need. Other services include: encapsulation, carbon fiber repair, helical tiebacks, and shoring. Shoring is done when one part of a building needs support before the rest can be built. This process is done to prevent future foundation problems. An example of shoring is the installation of helical tiebacks, which are used to straighten bowing or leaning foundation walls. Bowing or cracked foundation walls can also be repaired using carbon fiber strips, which provide strength and stability. Atlas Piers also specializes in encapsulation, which is the installation of a vapor barrier along crawlspace or basement walls to seal out moisture.
We are experts when it comes to foundation repair in Asheville North Carolina. We are here to help with any type of foundation repair problem, question, or project! We will give you an estimate for your foundation repair costs.  Give us a ring!