Commercial Foundation Repair in Auburn Alabama
Atlas Piers of Atlanta offers foundation repair and crawlspace encapsulation services for residential and commercial properties in Auburn, Alabama. It is common in Auburn, Alabama to have severe storm activity from the late winter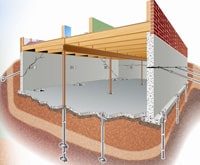 through early summer, and the city receives a significant amount of rainfall. Owing to its proximity to the Gulf, Auburn is also subject to fringe effects from tropical storms and hurricanes in the summer and fall. Because of all the different storms it is common to have foundation failure problems, but don't worry, Atlas Piers is there to help. With a team of foundation repair professionals, Atlas Piers can help with any commercial foundation repairs Auburn Alabama you may need.
Commercial Foundation Repair Solutions in Auburn AL
When you see signs of foundation failure, you might feel a little overwhelmed. Understandable! However you really don't need to stress too much. Just a call away is a great foundation repair team with years of experience in underpinning, mudjacking, shoring, carbon fiber repair, hardscaping, and all other forms of foundation repair. As a business owner, you must watch for the signs of foundation failure, and then call us right away if something comes up. Watch for these signs of foundation failure and settlement:
■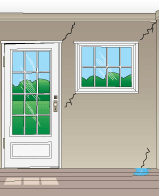 Doors and windows that stick
■Cracks in walls, floors, slabs, drywall, or garage columns
■Leaning and bowing walls
■Cabinets that won't open
■Water stains on walls and floors
■Exterior foundation cracks
When and if you end up noticing these signs in your Auburn, Alabama business, don't hesitate for a second to pick up the phone and call us at Atlas Piers. There is no reason to wait on foundation repairs. Your company's storefront is one of your biggest investments, so you should keep tabs on all foundation problems you may have. We plan on helping you keep its foundation in great shape. This will keep the value of your business up and you and your customers safe.
Foundation repair in Auburn, AL, has several solutions. We use only the best products on the market made by Earth Contact Products (ECP). These reliable products help us to create a stable structure for you. The most used products to help with your foundation repair are helical piers. These helical piers are screwed into the stable soil below your foundation to help support the weight of your building. We can also use steel push piers. With more than one steel push pier pushed into the soil below, the load is spread out so that one pier is not carrying all the weight. With the underpinning we are providing additional support from the footings using piers, piles, or anchors. Atlas Piers knows how to provide foundation repair in Auburn, AL.
Crawlspace Encapsulation and Repair in Auburn, Alabama
Atlas Piers also offers repair and waterproofing solutions for any crawlspace problems that you may have. Foundation issues often lead to structural problems in the crawlspace, such as leaning or bent support beams, or unstable concrete. Moisture is another common problem in crawlspaces. When moisture seeps into your crawlspace, it may lead to several serious issues, such as mold or mildew growth, wet or damp crawlspace walls, high humidity, rust on metal, or wood rot. For any structural problems in your crawlspace, consider crawlspace piers from Atlas Piers. These piers are installed under the foundation to support the crawlspace and prevent further damage. For any water issues in your crawlspace, crawlspace encapsulation is the best solution. This process involves installing a vapor barrier to seal out moisture, protecting the crawlspace from mold growth and other harmful issues.
So no matter what foundation repair solution you may need, we can provide it. From bowing walls to leaning chimneys – No matter what, we have your back. We will give you an estimate of what the repair cost will be ahead of time. Call Atlas Piers of Atlanta, your commercial foundation repair Auburn Alabama team.