Commercial Foundation Repair Florence South Carolina
Atlas Piers of Atlanta provides quality foundation repair services to the city of Florence. The town is a part of the humid subtropical climate zone. The seasons of winter, spring, and fall are all mild, while summers are hot and humid. Summer highs average in the nineties. Winter lows average in the thirties. Winter nights sometimes fall below freezing, but the temperature rises in the morning. Though the variation in temperature provides a nice change for Florence citizens, it can actually pose some potential issues for buildings in the area. Atlas Piers is here to help with those problems. We are your service provider of residential and commercial foundation repair  in Florence South Carolina.
Commercial Foundation Repair Florence SC
As temperatures vary, the ground does too. Cold temperatures cause the ground to compact, while heat makes it expand. The more this happens, and the more quickly it happens, the weaker soils become. Because temperatures can change very quickly in Florence, especially during winter overnight freezes, this is something to be aware of. When a building is built, it relies on the ground below it for support. If this ground loses its original strength, it may begin to sink or settle. The structure above it may do just the same. This is called foundation settlement.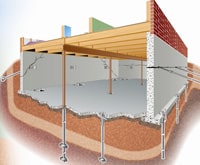 There are some signs that this may be occurring beneath your business. Your doors and windows will become misaligned, so they may be difficult to open or close. Walls and floors will begin to crack. If you have a chimney, it may lean to one side. If you notice any of these things happening in your business, give us a call. The longer you wait, the more serious the problem will become. With our professional foundation repair products, we can have your business fixed in no time!
Common solutions utilized by Atlas Piers of Atlanta include:
underpinning. Atlas can install helical or steel push piers to combat a sinking foundation. These piers will lift your home's foundation to its original state and prevent future sinking.
crawlspace encapsulation. Crawlspace encapsulation provides a waterproof seal for your crawlspace. This will prevent mold growth and water damage.
carbon fiber repairs. Carbon fiber repairs are an eco-friendly alternative to underpinning. They are applied directly to the wall and can repair cracks and strengthen bowing or leaning walls.
The next time you have a foundation problem or question, you know who to call. After all, we are your experts for residential and commercial foundation repair in Florence South Carolina