Why is Commercial Foundation Repair in Memphis Tennessee Necessary?
Memphis is a beautiful city with so much to offer. Due to the location of Memphis, swings in temperature and climate are incredibly common. Air masses come from the Great Plains or the Gulf of Mexico. They experience all four seasons, but are known to be a warm sub-tropical climate for the most part. Lots of rain is a common theme for the area. Changes in temperature cause expanding and contracting of the soil around a building's foundation, and all the rain water can turn into excess water around the foundation as well.
So what effect can these expanding and shrinking soils have on your foundation? Even a concrete foundation is susceptible to damage when the soils supporting it shift. Indications of potential foundation failure may include:
Commercial Foundation Repair Solutions for Memphis Tennessee
Atlas Piers of Atlanta is happy to offer a wide range of foundation repair options in the Memphis area. Our solutions, powered by quality ECP products, are designed to repair a wide range of foundation problems. We offer underpinning solutions, including helical and push pier installation, to help fix sloping floor and slab cracks. Our piers can be installed in any weather conditions and provide permanent,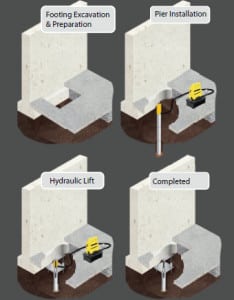 durable support for your home. We have highly trained employees ready to tackle your bowing walls and wall cracks with helical tiebacks, wall anchors, helical piers,  or resistance piers.
Many times, foundation trouble means water damage. The cracks in your floors can easily allow water and excess moisture come in to the business or home. To combat this, Atlas offers crawlspace encapsulation services. We can install waterproof vapor barriers that seal your crawlspace and prevent any more water damage.
Since it is your business, and your business is one of your largest investments, we can help you fix it fast. Call us today to find out more about our commercial foundation repair Memphis Tennessee services.