Commercial Foundation Repair in Raleigh North Carolina
Atlas Piers of Atlanta offers foundation repair services in Raleigh, North Carolina. This city's weather contributes to a high rate of foundation failure. High magnitude storms in Raleigh are usually the result of cold air damming. This happens due to the city's proximity to the Appalachian Mountains. During the late summer and early fall, Raleigh can also experience hurricanes. Because of these different storm conditions, Raleigh regularly has to deal with damage to commercial foundations. Foundation failure can be a danger to your business, and can affect the value of your commercial building. Luckily, Atlas Piers is there to help with all your commercial foundation repair Raleigh North Carolina needs.
Commercial Foundation Repair Solutions in Raleigh NC
When you see foundation failure signs, you might feel a little panicked. This is very understandable. However you don't need to worry that much, because just one simple call away is a professional team with years of experience in underpinning, mud jacking, shoring, carbon fiber repair, hardscaping, and all other forms of foundation repair. You might be wondering what kind of signs to watch out for when looking for foundation failure. Fortunately, it is relatively easy to find these signs. Some signs include:
■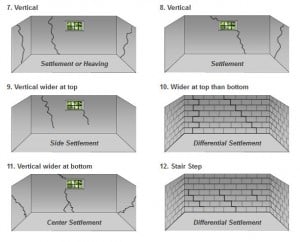 Doors and windows that stick
■Cracks in walls, floors, slabs, drywall, garage columns
■Leaning and bowing walls
■Leaning chimneys
■Cabinets that won't open right
■Water stains on walls and floors
■Exterior foundation cracks
When and if you notice these signs in your Raleigh, North Carolina business, don't hesitate to pick up the phone and call us at Atlas Piers. There is no reason to wait on foundation repairs, that's why we're here! Your commercial building is a big investment, and we want to help you in any way we can to keep your business' foundation in great shape. Keeping your foundation in good shape will help to keep the value of your commercial building up.
Atlas Piers can provide the residents of Raleigh, North Carolina with quality foundation repair solutions no matter what the situation is. For your sinking and settling foundations, we offer both a variety of underpinning products and pressure grouting services. Underpinning is the method by which a foundation pier is driven into the ground to support and lift a foundation. The various piers that we use include: helical piers, steel push piers, slab piers, new construction piers, and micropiles. Pressure grouting can also be used to fix a sinking foundation. In this method, a grout is injected beneath the foundation to fill voids and provide the structure with the support that it needs.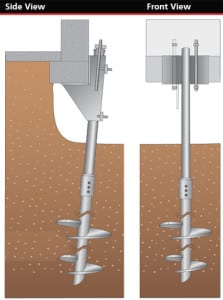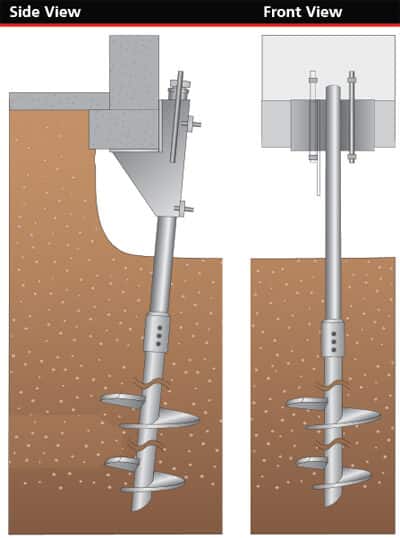 Other repairs that we offer include carbon fiber repairs, helical tiebacks, and encapsulation. Carbon fiber repairs are often the method of choice for bowing or cracked basement walls; carbon fiber strips are used to strengthen the wall and lock it in place, sealing cracks at the same time. Helical tiebacks are also used to straighten bowing or leaning foundation walls. They anchor into the soil adjacent to the wall and apply an opposite horizontal pressure. For wet basements or crawlspaces, encapsulation is a must; in this process, a vapor barrier is installed along the walls to seal out moisture.
So no matter what solution is needed, we can provide it. It could be helical piers to lift your leaning chimney, wall anchors to resolve bowing and leaning walls. No matter what problem you might have, we have you covered. Call Atlas Piers of Atlanta, your provider of quality foundation repair in Raleigh North Carolina.