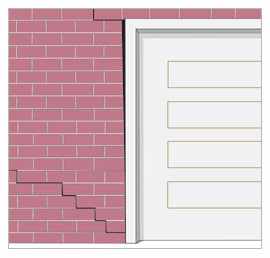 If you are a homeowner in Buckhead, Georgia, you are probably aware that foundation problems are quite common in this region. Due to the fluctuation between hot summers and cool winters, coupled with variations in soil moisture, your home's foundation can suffer significant damage. That is where you need the best foundation repair services, and Atlas Piers Home in Atlanta is your ultimate solution.
Our experts understand the unique challenges of Buckhead's climate and soil, and we offer a wide range of services to address everything from foundation failure to basement waterproofing and structural repair. Rather than waiting until your home is suffering from serious damage, take the proactive approach and contact Atlas Piers today to schedule a consultation. Get the help you need to protect your Buckhead home.
Warning Signs of Foundation Problems
There are several different structural and water problems that can occur in your home due to a foundation problem. It is important to have these issues fixed as soon as possible to prevent further damage. The longer you wait, the worse the problem will become, leading to more expensive and more complicated repairs. The following symptoms are signs that there may be a foundation problem in your home:
If you see any of these issues, contact the repair team at Atlas Piers right away. We have several options to help restore your home to top condition.
Our Foundation Repair Solutions in Buckhead, GA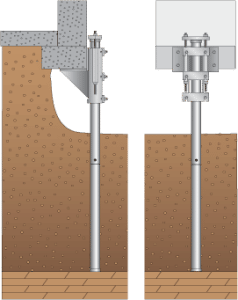 If you're searching for reliable and effective foundation repair solutions in Buckhead, GA, look no further than Atlas Piers. We understand how important it is to have a strong and stable foundation for your home. That's why we offer a range of techniques for repairing settling and sinking foundations.
Our solutions include underpinning with helical piers or steel push piers that are driven or screwed deep into the load-bearing soil. We also provide pressure grouting, a technique that fills voids beneath the concrete foundation with a cement-based grout. When it comes to your foundation repair needs, don't trust just any company. Choose Atlas Piers for top-notch service and solutions in Buckhead.
Basement Wall Stabilization
If you notice any foundation shift or cracks in your basement wall, it's crucial to address them immediately to avoid further damage.
Professional Encapsulation Services
Protecting your home from foundation problems is crucial to ensure the long-term safety and durability of your property. At Atlas Piers, we provide top-quality professional encapsulation services in Buckhead, GA, to prevent water seepage into your basement or crawl space. With our expert guidance and cutting-edge technology, we have the resources to install a vapor barrier inside your home, effectively sealing out moisture.
Contact Us Today For A Free Foundation Repair Quote
Maintaining your home's foundation is crucial as a homeowner. If you live in Buckhead, Atlanta and have concerns about your home's foundation, Atlas Piers offers reliable and professional foundation repair solutions.
Our team of experts is equipped with state-of-the-art tools and technologies to handle any issues your foundation may have. With years of experience, we ensure your home is secure. Get started on restoring your home's foundation by contacting us today for a free quote.