Commercial Foundation Repair in Charlotte North Carolina
Charlotte is directly in the path of subtropical moisture from the Gulf of Mexico. Because of this, the city receives a good amount precipitation throughout the year. In addition, there is an average of 4.4 inches of snow and frequent ice storms and sometimes there can be sleet mixed in with rain. These storms can have a major impact on the area. Moisture puts pressure on the walls and floors of your commercial foundation and can cause cracks, bowing walls, and sticking doors and windows. In turn, these problems allow mold and mildew to grow in your commercial business. Not only is it dangerous to your employees' health, it is a danger to the value of your business, but not to worry, Atlas Piers can help. Atlas Piers can help with any and all of your commercial foundation repair Charlotte North Carolina needs.
When and if you see signs foundation failure, you might feel the need to panic, but don't worry. Atlas Piers is a simple call away, and a professional team with years of experience in all forms of commercial foundation repair will be ready to help with any problems you may have. As a business owner, you can watch for the signs, and then call us right away. Watch for these signs of foundation failure and settlement:
If you notice any of these signs in your Charlotte business, don't hesitate to pick up the phone and call us at Atlas Piers. There is no reason to wait on foundation repairs. Your business is a big investment, and we promise we will help you keep your commercial building's foundation in great shape. This will keep the value of your commercial building up and your employee's safe.
Foundation Repair Solutions in Charlotte North Carolina
Atlas Piers has the experienced crew to make your foundation repair in Charlotte, NC. Because of our experience, we have chosen to use only the best products on the market made by Earth Contact Products (ECP). When we underpin your foundation we are strengthening, stabilizing and lifting your foundation to the original elevation. In our underpinning we often use helical piers or steel push piers. Both of these products are put into more stable soils below your foundation to add the strength that is needed. This helps to distribute the weight of your foundation onto the multiple piers. Foundation repair in Charlotte, NC can be done with our team at Atlas Piers.
In addition to our commercial underpinning products (helical piers, slab piers, helical piers, micropiles, and new construction piers), we offer a variety of other services that are helpful in many foundation repair situations.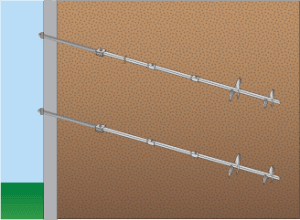 If you are experiencing bowing or leaning foundation walls, you may need to invest in helical tiebacks. These tiebacks are installed into the ground adjacent to the wall and anchor it horizontally to provide opposing pressure. Carbon fiber repairs can also be used to fix leaning or bowing foundation walls, or to seal cracks in the walls. In this method, carbon fiber strips are used to support the walls and lock them into place. If your foundation has begun to collapse or crack, a void may have formed underneath. This can occur when there is erosion or shifting soils due to dry conditions below the foundation. Voids like these can be filled with a grout solution to stabilize and support the foundation. For this, Atlas Piers offers pressure grouting, a very effective void filling method. Our team also specializes in basement wall and crawlspace encapsulation. In this process, a vapor barrier is installed around the walls of a basement or crawlspace to seal out moisture, keeping the area dry and the air fresh and mold-free.
So no matter what solution you might need, we can provide it. We will provide any service we can to make sure your commercial building's foundation is in tip-top shape. No matter what, we have you covered. Call Atlas Piers of Atlanta, your provider of foundation repair in Charlotte North Carolina.