Protect Your Foundation, Know the Signs of Foundation Failure in Atlanta
Everyone knows that foundation failure is a bad thing. It can hurt you, your family, your home, and your wallet. Obviously, it is definitely something you want to avoid, but how? Before anything else, you need to know the signs of foundation failure so that you are able to identify your foundation problem early. The earlier the better, you will have a better chance of stopping it and protecting your home and everyone inside it.
The Signs of Foundation Failure
There are a variety of signs you can look for when trying to identify foundation failure. Some are easier to find than others, and some are more serious than others, getting to know these signs will help you know the condition of your home.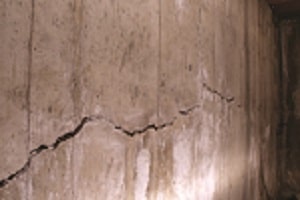 One of the more common signs of foundation failure are cracks; wall cracks, floor cracks, slab cracks, foundation cracks, garage column cracks, all types of cracks in your home. Cracks can differ in size, and the larger they are, the more likely it is that it has to do with a failing foundation. Cracks do not always mean foundation failure, but they are definitely a more common symptom. It is smart to get a professional to analyze them to tell you whether or not they may point to foundation failure or not before you decide to fill them.
Some of the more difficult signs to spot include bowing or leaning walls, leaning chimney, settling foundation, sloping floors, sticking doors, or sticking windows. All of these are more serious signs of foundation failure. If you start noticing signs like these make sure to call a professional foundation repair team. It is much better to get these problems taken care of so that they do not come back, or get worse. Home repairs may temporarily fix the problem, but almost every time, they will not permanently fix the problem, and sometimes they can even make them worse. Call a the Atlas Piers team, we are an experienced and professional foundation repair group.
Now I Know I Need Foundation Repair in Atlanta, What Next?
If you find signs of foundation failure in your home, do not worry, just pick up the phone and call us here at Atlas Piers. There is no problem too small or too big for us to take care of, we are happy to be able to help you keep your home a safe and secure place for you and your family. Not only will we help you repair your foundation failure, we can guarantee to you that we will use top quality products that will keep you from ever having problems with it again. All of our products come from Earth Contact Products, one of the top providers of foundation repair products. We promise to give you the best experience we can offer. We offer solutions such as carbon fiber repair, helical slab piers, helical tiebacks, porch piers, pressure grouting, steel push piers, shoring, and underpinning for foundation repair. We also offer some solutions for waterproofing your home as well such as encapsulation. Between offering some of the best products for foundation repair and having a wonderful team of foundation professionals, the choice is clear, come to Atlas Piers for all your foundation repair needs. We want to help you feel safe and protected in your home, all you have to do is pick up the phone and give us a call today.