Commercial Foundation Repair in Tuscaloosa Alabama
Atlas Piers of Atlanta provides quality foundation repair services to Tuscaloosa residents. In Tuscaloosa, Alabama, it is common to have frequent severe thunderstorms, the severe thunderstorms can bring damaging winds, large hail, and occasionally tornadoes. This weather can cause many foundation failure problems. These issues can cause your business to be unstable structurally, and can even allow water inside, causing mold and mildew to grow. These kinds of conditions are not healthy for you or your customers, and can even be dangerous. All of these problems are an easy fix to Atlas Piers. If you are having and foundation failure, Atlas Piers can help with all of your commercial foundation repair Tuscaloosa Alabama needs.
Professional Commercial Foundation Repair in Tuscaloosa AL
If you see foundation failure signs, you might feel some stress, which is completely understandable! However you really don't need to worry. Just a call away is a great foundation repair team with years of experience in underpinning, mud jacking, shoring, carbon fiber repair, hardscaping, and all other forms of foundation repair. As a responsible business owner, you can watch for the signs, and if you notice any problems, call us right away. Watch for these signs of foundation failure and settlement:
■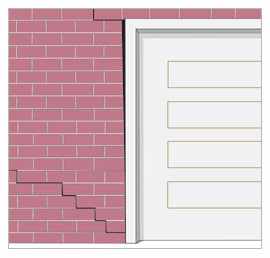 Doors and windows that stick
■Cracks in walls, floors, slabs, drywall, or garage columns
■Leaning and bowing walls
■Leaning chimneys
■Cabinets that won't open
■Water stains on walls and floors
■Exterior foundation cracks
When and if you notice these signs of foundation failure in your Tuscaloosa business, don't fret and pick up the phone and call us at Atlas Piers. We can do your foundation repair in Tuscaloosa, AL. We have the experts to make a plan to solve your foundation problems. Since we want the job done right from the very beginning, we use only the very products manufactured by Earth Contact Products (ECP). The widely used helical piers and steel push piers will be installed into more stable soil below your foundation. These piers will spread the weight of your foundation over several piers making a stronger foundation. There is absolutely no reason to wait on foundation repairs, especially since Atlas Piers can help with any commercial foundation repair in Tuscaloosa, AL, that needs professional attention. Your business is such a big investment, and we plan on helping you keep its foundation in great shape. A well-kept foundation will keep the value of your company up and you and your customers safe.
Crawlspace Encapsulation and Repair in Tuscaloosa, Alabama
For damp or wet crawlspaces, consider wall encapsulation services from Atlas Piers. Encapsulation is a method that involves installing a vapor barrier along the walls of the crawlspace to seal moisture out. The vapor barrier works to stop water from seeping through cracks, or through the porous concrete to prevent serious issues, including mold growth, wood rot, metal rust, wet insulation, and high humidity. If you have a crawlspace that is suffering from settlement or shifting, Atlas Piers offers quality crawlspace underpinning to support and stabilize the foundation of the home. Because the crawlspace supports the entire home, it is important to keep it well stabilized. Atlas Pier offers a variety of solutions to take care of all of your crawlspace problems.
So no matter what solution you might need, we can provide it. Whether it be cracking walls and floors, sinking floors, sticking doors or windows, or a leaning chimney, we've got you covered. Call Atlas Piers of Atlanta, your commercial foundation repair Tuscaloosa Alabama team.