Warmer Weather can Mean a Musty, Damp Crawlspace in Georgia and Alabama
Damp or Wet Crawlspace are Unhealthy for Atlanta and Birmingham Families
With the warmer weather coming, you may notice a musty smell coming from your crawlspace. This is a sign that your crawlspace is damp or wet. It is a good idea to check your crawlspace from time to time to see if water is entering it. A damp or wet crawlspace can create health issues for you and your family. Mold and mildew form and grow in dark, damp areas such as a crawlspace.
The exposure to mold can cause several health issues such as:
Nasal stuffiness

Throat irritation
Coughing or wheezing
Eye irritation
Skin irritation
Chronic lung illnesses
You may not realize that your chronic illnesses are coming from a wet or damp crawlspace. Not only can a damp crawlspace cause mold and mildew, the moisture will rot the wood in the crawlspace and will also be a place where for bug infestation.
There may be signs in your living area too, that you have a damp or wet crawlspace. Some of these signs are:
Musty smell

Soft or rotten wood floor joist or support beams
Damp floors or walls
Sagging floors
High humidity
A wet crawlspace can endanger the structural integrity of the home's foundation. This damage occurs when the moist environment exposes joists, sill plates, support beams, subfloor and block foundation walls.
Water enters the crawlspace from a variety of sources such as heavy rain, ground water, and plumbing leaks. The subsurface soil base, open-earth evaporation and exterior perimeter drainage all contribute to the crawlspace becoming susceptible to mold, mildew, insect infestation, and fungus.
The water that is in your crawlspace will saturate inside exterior walls, insulation, up to the roof and attic spaces. This raises the humidity level in your home.
Don't let a wet or damp crawlspace cause not only damage to your Atlanta or Birmingham home, but comprise the health of you and your family. When you notice any of the signs of a wet or damp crawlspace, contact the experts at Atlas Piers of Atlanta. We have the solutions for your wet or damp crawlspace.
 Solutions for a Wet or Damp Crawlspace in Alabama and Georgia
Atlas Piers of Atlanta can help you with your damp or wet crawlspace with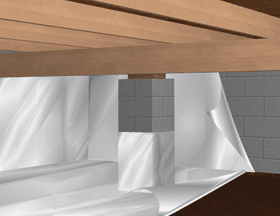 crawlspace encapsulation. This is the process of installing a vapor barrier on the walls of your crawlspace. This waterproofing material stops ground moisture from entering the crawlspace.
The material we use for crawlspace encapsulation is made by Earth Contact Products (ECP), and is an impermeable material. They are manufactured using a triple-ply woven high density polyethylene membrane and is puncture resistant.
Creating a healthy home starts from the ground up. If your crawlspace is full of moisture, the moisture will move upward into living spaces. Up to half the air you breathe in your home comes from the basement or crawlspace. By letting Atlas Piers of Atlanta provide you with crawlspace encapsulation in your Alabama or Georgia home, the moisture will stop migrating into your living spaces, creating a healthier environment for you and your home.
The vapor barrier we use is either 10-mil thick or 16-mil thick. Hardware stores usually carry a think sheeting that is 6-mil thick and is not puncture resistant. Once the vapor barrier is punctured, it is useless. That is why if you need crawlspace encapsulation, it is a good idea to have the professionals at Atlas Piers of Atlanta come in and install our vapor barriers. It will save you money in the long run. A vapor barrier can lower your energy bill, too.
Atlas Piers of Atlanta have been in business since 1987 and serve cities in the states of:
With the heavy rains coming this spring and summer, let the experts at Atlas Piers of Atlanta install a vapor barrier in your crawlspace so that you and your home stay healthy.
We can also provide you with any foundation repair needs you may have. Our underpinning products are the best in the industry and will stabilize your home back to its original level.
Don't hesitate. Once you see the signs of a wet or damp crawlspace, contact Atlas Piers of Atlanta. We will come and inspect your home and crawlspace and offer the best solution for your crawlspace repair needs. Hiring a company with experience and that uses the best products in the industry, you will be getting the very best.