Quality Commercial Foundation Repair in the Tennessee
If you're in need of quality commercial foundation repair in the Tennessee area, look no further than Atlas Piers of Atlanta. Our experienced and skilled professionals provide the highest level of service for all commercial foundation repair projects, big or small.
With a specialization in steel piers, including installation and repairs, we are dedicated to providing value to our clients by offering safe, reliable, and durable solutions for their commercial foundations. Whether you're in need of repairs because of settlement resulting from soil conditions or replacement due to unstable materials used during original construction projects, we'll develop a plan that meets your unique needs and results in a strong foundation. Contact Atlas Piers of Atlanta today to learn more about our quality commercial foundation repair services.
Our Service Area in Tennessee
Atlas Piers is proud to provide Tennessee with lasting repairs and service you can trust. From commercial underpinning and concrete grouting to tiebacks and carbon fiber repairs, our expertise spans a wide range of foundation services to fit your needs.
We are continuously broadening our coverage area in Tennessee; even if you do not see your city listed, don't hesitate to reach out—we may have already expanded into your area! Our knowledgeable team is ready to answer any questions you may have about the best solution for your property. When you choose Atlas Piers Foundation Repair, you can rest assured that the quality work we deliver is backed by years of experience.
Memphis
Nashville
Knoxville
Chattanooga
Clarksville
Murfreesboro
Jackson
Johnson City
Franklin
Bartlett
Hendersonville
Atlas Piers of Atlanta offers a wide range of commercial solutions to basement and foundation problems in Tennessee. We specialize in foundation repair all around Tennessee. We have our high quality carbon fiber that repairs bowing walls and leaning walls. If you are in need of underpinning repair we can do a custom project that suits your project.
Tennessee Crawlspace Repair
At Atlas Piers of Atlanta, we understand the importance of maintaining a safe and healthy environment in your crawlspace. Our experienced technicians are skilled in identifying and eradicating moisture that causes mold and mildew, which if left unchecked can cause serious issues for you and your customers.
We offer economical pricing along with a friendly and knowledgeable staff to ensure that your needs are met at an honest rate. With our expertise, we guarantee efficient crawlspace repair and crawlspace encapsulation services to keep your crawlspace free from moisture-related issues.
Commercial Foundation Repair in Tennessee
If you own a business in Tennessee, and are struggling with foundation failure, Atlas Piers has a solution for you. We specialize in commercial foundation repair, and provide a variety of services to take care of any foundation problems that you may be dealing with. Some of the most common problems are sinking or settling foundations. Other problems include foundation cracks, shifting foundations, and leaning or bowing foundation walls.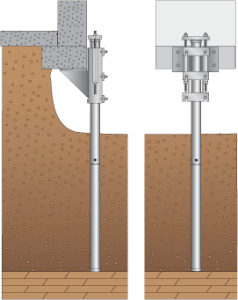 Atlas Piers offers solutions for all of these foundation problems and more. For sinking and settling foundations, we can use underpinning services using helical piers or steel push piers to support and lift the foundation, stabilizing the entire structure at the same time. Bowing and leaning basement walls in your commercial structure can be fixed with helical tiebacks, which screw into the ground and apply opposite lateral pressure to pull the foundation walls back into place. Other problems, such as a shifting or cracked foundation, sloped or uneven floors, or various structural issues can be repaired using pressure grouting techniques to lift and secure the slab with an expansive grout that is injected beneath the foundation. We even offer crawlspace encapsulation services to keep your crawlspace and business dry and healthy.
Our Foundation Repair Solutions
If you are noticing that masonry is buckling, slanted or fractured, then you may be in need of foundation repair services. Foundation sinking, settling, and the resulting damage can put a serious strain on the structure and compromise your property value.
That is why Atlas Piers offers comprehensive solutions to address the issue in a timely manner. Our team of experts has plenty of experience in dealing with foundation troubles of all kinds, and we have developed proprietary systems that can permanently remedy the problem.
When you partner with our reliable team of professionals, you can count on your foundation issue being dealt with quickly and efficiently – allowing you to enjoy peace of mind knowing that your property is safe and will retain its true value.
Carbon Fiber repair
Crawlspace encapsulation
Tiebacks
Shoring
Underpinning
Grouting
Our Foundation and Structural Repair Services in Tennessee
Atlas Piers has been providing superior service and dependable results for foundation repair in Tennessee for years. From our vast array of services, including piers, carbon fiber repair, crawlspace encapsulation, and underpinning, to our expertise in tiebacks and grouting, our team is fully equipped to successfully address any foundation issues you may be facing.
Let us put our knowledge and experience to work for you; reach out and take the first step towards restoring the safety and integrity of your structure's foundation. Contact Atlas Piers today to discuss your individual foundation challenges with one of our experienced technicians.