Quality Commercial Foundation Repair in the Tennessee
Atlas Piers has been serving Tennessee with quality work you can count on.
Our coverage area is continuously expanding. If you need service and do not see your city listed, please contact us, we may have already expanded into your area. For all your Tennessee commercial foundation repair needs, Atlas Piers has you covered with our underpinning and grouting solutions.
Memphis
Nashville
Knoxville
Chattanooga
Clarksville
Murfreesboro
Jackson
Johnson City
Franklin
Bartlett
Hendersonville
Atlas Piers of Atlanta offers a wide range of commercial solutions to basement and foundation problems in Tennessee. We specialize in foundation repair all around Tennessee. We have our high quality carbon fiber that repairs bowing walls and leaning walls. If you are in need of underpinning repair we can do a custom project that suits your project.
If you are in need of crawlspace repair we can handle it.  Crawlspaces are known to trap in moisture which causes mold and mildew. Mold releases spores into the air which can affect the health of you and your customers.  If you notice a musty smell, call our experts and we will eradicate the mold right away.
We offer affordable service with a professional team to back it up. We value honesty and hard work. We offer our customers fair prices.
Commercial Foundation Repair in Tennessee
If you own a business in Tennessee, and are struggling with foundation failure, Atlas Piers has a solution for you. We specialize in commercial foundation repair, and provide a variety of services to take care of any foundation problems that you may be dealing with. Some of the most common problems are sinking or settling foundations. Other problems include foundation cracks, shifting foundations, and leaning or bowing foundation walls.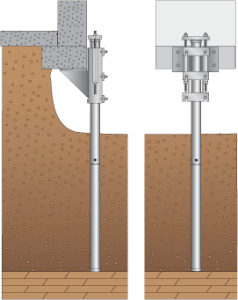 Atlas Piers offers solutions for all of these foundation problems and more. For sinking and settling foundations, we can use underpinning services using helical piers or steel push piers to support and lift the foundation, stabilizing the entire structure at the same time. Bowing and leaning basement walls in your commercial structure can be fixed with helical tiebacks, which screw into the ground and apply opposite lateral pressure to pull the foundation walls back into place. Other problems, such as a shifting or cracked foundation, sloped or uneven floors, or various structural issues can be repaired using pressure grouting techniques to lift and secure the slab with an expansive grout that is injected beneath the foundation. We even offer crawlspace encapsulation services to keep your crawlspace and business dry and healthy.
Foundation Settlement Repair
Are you experiencing bowing, leaning, or cracking  masonry? Often, these are the signs of a settling or sinking foundation. If so, your business may need foundation repair help. Atlas Piers will restore your property value and give you peace of mind.
Atlas Piers has many patented systems, to stabilize your foundation and get your home permanently repaired. Your business foundation repair is a serious issue and something that we work with on a daily basis, so you can rest assured that we will fix your business' foundation problem the first time.
Carbon Fiber repair
Crawlspace encapsulation
Tiebacks
Shoring
Underpinning
Grouting
Some of Our Services Include:
Foundation repair (piers)
Carbon Fiber Repair
Crawlspace encapsulation
Tiebacks, Shoring
Underpinning
Grouting
Call Atlas Piers today for solutions for all your foundation repair Tennessee needs.