Commercial Foundation Repair in Clarksville Tennessee
Atlas Piers of Atlanta is happy to serve the city of Clarksville. Whatever foundation problems you may be experiencing with your home can be fixed with a quick call to Atlas. We provide a wide range of services to fit any problem you may be experiencing. Common foundation problems in Clarksville may include:
Foundation Repair Solutions for Clarksville Tennessee
Since there is so much growth in Clarksville, it is very likely the city will see lots of new construction. One of the many services that we offer at Atlas Piers of Atlanta is shoring for new construction and assistance with new construction foundations. We can work with your architect to make sure your new company has the foundation you need right from the start.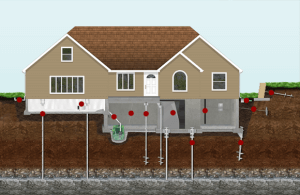 However if your business isn't new and you notice that you have cracks in your foundation, walls, or bowing and leaning walls; we can come to the rescue for these foundation repair needs as well! We specialize in underpinning and commercial foundation repair, but also have a multitude of other services that you can count on us for. We offer carbon fiber repair, mudjacking, hardscaping, and even masonry and concrete repair.
These are not services that you just want anyone to do. Your company is one of your biggest investment and for your foundation repair Clarksville, Tennessee needs you need to call the most professional team around with the most experience. That is Atlas Piers of Atlanta. We can back up the talk with experience. Don't wait on foundation repairs. Protect your biggest investment and trust the foundation professionals at Atlas Piers to help you do that. Call us today for all your Clarksville commercial foundation repair needs.