Spring is the Perfect Time for Commercial Underpinning and Construction in Atlanta
If you live in Atlanta and have a commercial project coming up or are in need of commercial foundation repair, the spring season is the perfect time for Atlas Piers of Atlanta to help you with your commercial underpinning needs.
Have a Commercial Construction Project in Atlanta? Let Atlas be your Commercial Contractor for your Underpinning Projects
Our commercial underpinning services include:
If you have noticed some of the signs of foundation failure in your business, don't hesitate to call the professionals at Atlas Piers of Atlanta to come and inspect your business and offer the best solution for your commercial foundation repair needs. Some of the signs to look for are:
For new commercial construction, Atlas Piers of Atlanta will install helical piers at the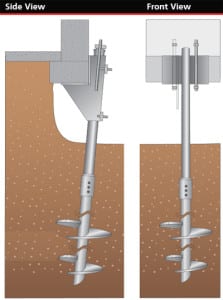 beginning of the new construction so you will be assured that your new business won't have foundation issues in the future. These helical piers are screwed into the earth to stable soil so when the new construction is built onto these piers, you will be assured that it will not move or shift from being built on unstable soil.
The experts at Atlas Piers of Atlanta has teamed up with professionals around the Atlanta area to provide special services to business owners. These services include:
Waterproofing

Drainage
Structural repair
Grading
All of the products we use for commercial foundation repair are manufactured by Earth Contact Products (ECP), the leader in foundation repair products in the industry. We have been in business in the Atlanta, GA for over 25 years and have expanded our business to include Florida, Tennessee, Georgia, Alabama, North Carolina, and South Carolina.
Let us help you get your new construction off to a good start or get your current business' foundation repaired and structurally sound. We take pride in our work and we will get the job done quickly so that you can get your business going. Don't hesitate, contact us today for any of your commercial underpinning needs.