The Cost of Foundation Repair vs. The Cost of Foundation Failure
Many homeowners are deterred from foundation repair services due to the seemingly high foundation repair costs. These services, however, are often vital in keeping the home safe and secure. It may seem like repairing small problems such as foundation cracks or sticking doors is extremely expensive, but the longer these problems remain unsolved, the worse the damage will become.
Often, a small crack in your foundation or your foundation wall can lead to water leakage, pest infestation, and severe structural damage. Atlas Piers provides the residents of Atlanta, Georgia and the surrounding areas with repair solutions at a reasonable price.
Foundation Repair Costs in Atlanta, GA
It is important for homeowners to invest in professional foundation repair services as soon as they notice any signs of foundation failure in their homes. Some of the most common signs of foundation failure to watch for include:
If you see any of these signs in your home, contact a repair professional at Atlas Piers immediately.
How Immediate Foundation Repair Can Save You Money
In many cases, small foundation problems lead to much more serious issues if ignored. The longer you wait to repair the problem, the more that will go wrong. Leaving even the smallest foundation problems alone can lead to leaning walls; settling, shifting, or sinking foundations; and even entire home collapsing. This is why it is important to take care of foundation issues as soon as they are discovered. This will cut down on the costs as larger foundation problems and more structural damage tend to result in more expensive and more complicated repairs.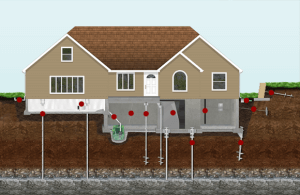 When choosing foundation repair services, many homeowners consider the costs to be the determining factor. The quality of the repairs, however, is often more important than the costs. If the repairs to your home are done incorrectly, they may cause further issues and even more damage to the structure. Correctly completed repairs, however, will not only fix the problem, but will help stabilize the home for years to come, preventing future foundation problems while fixing the issue at hand. The team at Atlas Piers is specially trained to provide you with the best quality foundation repairs.
We also use premiere foundation repair products from the leading supplier, ECP (Earth Contact Products), to make sure that the repairs last for several years to come. ECP foundation products are durable and effective, made from galvanized steel to ensure a strong repair. Popular foundation repair products from ECP are: steel push piers, helical piers, helical tiebacks, new construction piers, and helical anchors.
Foundation Repair Costs Explained
Every home is different; because of this, there is no set cost for each type of foundation repair. There are however, several factors that can help give you an idea of the foundation repair costs for your home:
House size: obviously, underpinning services for larger homes will be more expensive than those for smaller homes.
Severity of issue: The more extensive the problem is, the more difficult and more expensive it will be to repair.
Type of repair: Some repairs cost more than others due to the extra work and equipment needed. For example, piering is a more expensive solution, than simpler repairs such as carbon fiber strips as it involves more labor from the contractor, and often some excavation.
New Construction: Some of our foundation repair techniques can be used with new construction to prevent future foundation problems. These prices typically vary from other piering prices.
Come to Atlas Piers for the best foundation repair solutions. We work hard to determine the right solution for you, while keeping the costs as low as possible. For more information, contact us today!