Residential Helical Anchors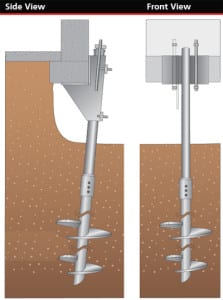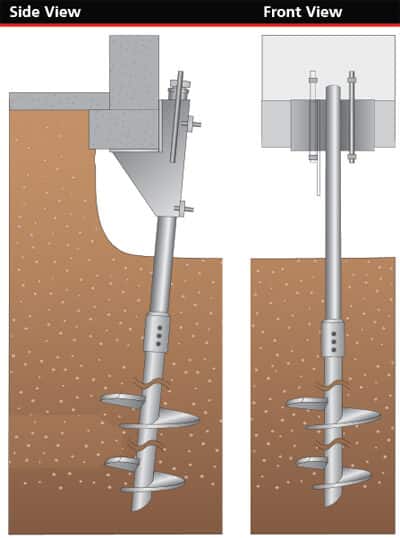 Foundation problems in your home can lead to serious structural damage and further foundation failure. To prevent these issues, invest in foundation repair solutions as soon as any foundation problems are discovered. If your home's foundation has started to shift or settle, it may be time to contact Atlas Piers. We can install helical anchors to stabilize and lift the foundation. The helical anchor installation process is one of the most effective and reliable solutions for residential foundation repair. If you see the signs of foundation failure in your home, contact a professional repair contractor from Atlas Piers today.
Settling and sinking foundations often result from soil movement below the foundation or from excess groundwater or surface water around the home. If this is the case, some telltale signs will be present in your home. If you notice any symptoms of foundation failure in your home, invest in helical anchor foundation repair methods immediately. Common symptoms of a foundation problem are:
All of the above structural issues are signs that your home is in need of foundation repair. Helical anchors can restore your foundation to normal and keep it well supported for years to come. These reliable underpinning devices have been doing just that for over a century.
 Helical Anchors for Foundation Repairs in Atlanta, Georgia
The first step in helical anchor installation is to screw the anchors into the load bearing soils deep under your foundation. Once installed, the anchors are used to support the weight of the structure while lifting the foundation to the original position. The foundation is now stabilized and supported from beneath. Helical anchors can also help close cracks in the foundation by leveling the concrete slab. Whether your foundation settled due to void formation, hydrostatic pressure, or poor soil compaction, helical anchors can provide the necessary support and lift.
For foundation repair solutions where both tension resistance and axial compression forces are needed, helical anchors are a must. These anchors are also very versatile, and can be used to lift and stabilize residential structures, pipeline and plumbing equipment, concrete slabs, and numerous other types of structures. Here at Atlas Piers, we use helical anchors from Earth Contact Products (ECP), the leader in foundation repair products. The ECP Helical Anchors are made with galvanized steel to ensure a long life. Other advantages to choosing helical anchors from ECP include:
Ease of Installation
Little to No Vibration
Immediate Load Transfer
Can be Easily Load Tested
Can be Installed in All Weather
Little to No Disturbance to Jobsite
Install Below Active Soils
Our professional team of contractors are always ready to help with all of your foundation repair needs in Atlanta, Georgia and the surrounding areas. If you live in Georgia, Alabama, Tennessee, North Carolina, South Carolina, or Florida, choose Atlas Piers. Contact us today for more information on our residential foundation repair solutions.